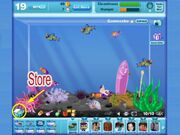 The endangered otter on Earth, the Sea Otter is a creature which eats sea urchins (You aren't mistakened. They DO eat Sea Urchins.) that destroy kelp forests. Their predators are humans and sharks.
You can only obtain the male otters through a request from a friend and you can purchase a female otter through the store. There are multiple colors that the pups can be (purple, black, blue, ect.).
Ad blocker interference detected!
Wikia is a free-to-use site that makes money from advertising. We have a modified experience for viewers using ad blockers

Wikia is not accessible if you've made further modifications. Remove the custom ad blocker rule(s) and the page will load as expected.