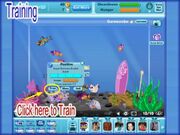 Happy Aquarium has a fun feature where you can train each one of your fish and adopted Sea creatures to learn 7 different tricks.
You can train your fish to do 1 trick at each growth phase.
Baby fish can be trained right away and will be eligible to learn their second trip after they pass their next growth phase. (Divide total hours until mature by 4)
If you want to see your fish or your Neighbor's fish perform tricks click on the green hand and tap on the glass. They will perform a different trick each time you tap the glass.
To train your fish click on the fish and then the "Train" button at the bottom left. If you are within the correct growth phase it will let you learn the next trick and you will play a mini game. If you win the mini game you learn the trick and you will also earn coins and fish food while doing so. You can earn 1 to 8 coins and 1 to 8 bottles of fish food with each training exercise.
Animals that you adopt such as otters, turtles, swordfishes, sea serpents, platypuses and penguins can also learn tricks.
For the mini game help, click this link http://happyaquarium.wikia.com/wiki/Training_mini_game
Ad blocker interference detected!
Wikia is a free-to-use site that makes money from advertising. We have a modified experience for viewers using ad blockers

Wikia is not accessible if you've made further modifications. Remove the custom ad blocker rule(s) and the page will load as expected.